Turning Knowledge into Action: Spotlight Initiative's Knowledge Fair to End Gender-Based Violence in the Caribbean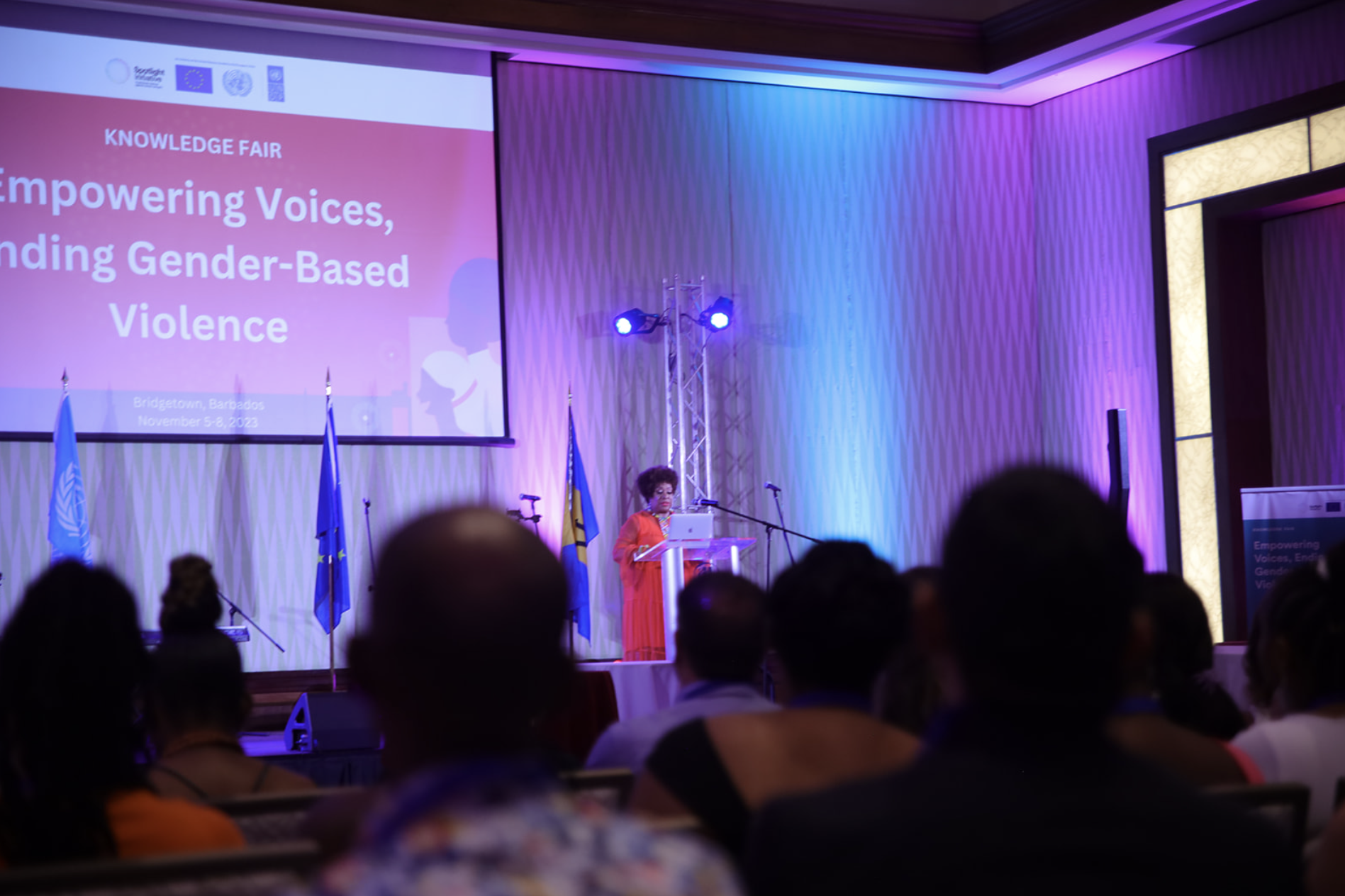 Bridgetown, Barbados 6 November, 2023. The world's largest effort to end violence against women and girls, the Spotlight Initiative (SI), is set to host the Knowledge Fair: Empowering Voices, Ending Gender-Based Violence from 6-8 November 2023 in Bridgetown, Barbados, a space to showcase local experiences, learn from each other, and amplify the impact of effective strategies to end Gender-based violence (GBV) and empower voices in the Caribbean region.
GBV including family violence (FV), persists today at an alarming rate, deeply rooted in unequal gender norms and relations. Homicide rates in several Caribbean countries, notably Jamaica and Trinidad and Tobago, have surged in recent years, putting them among the world's most violent nations (Crime and violence in Barbados: IDB series on crime and violence in the Caribbean, Bailey, 2016, p.13). This has significant implications for women, as illustrated by a Barbadian study showing that one-fifth of murders between 2000 and 2007 in Barbados were related to domestic violence (Crime and violence in Barbados: IDB series on crime and violence in the Caribbean, Bailey, 2016, p.23). Furthermore, three of the top ten recorded incidence rates of rape in the world occur in the Caribbean (Crime, Violence, and Development: Trends, Costs, and Policy Options in the Caribbean, UNODC, 2007, p. 12).
The event will provide a dynamic platform for sharing insights, best practices, and collaborative strategies to end gender-based violence (GBV) in the Caribbean region. The meeting seeks to offer attendees an inspiring mix of workshops, interactive sessions, creative installations, and collaborative activities that transcend traditional learning contexts.
The Fair will «Name» actors and showcase their experiences, inspiring others to get involved and contribute to lasting change; «connect» participants, fostering new partnerships and alliances to enhance the collective impact of efforts against GBV and FV; «nourish» by disseminating culturally relevant practices and products to engage diverse communities and enrich the collective knowledge base, encouraging new initiatives; and lastly it will «Amplify» knowledge exchange and partnerships to adapt, replicate, or scale up impactful work in this important area.
Note to Editors:
The SI is a United Nations initiative in partnership with the EU and other partners, that is committed to ending all forms of violence against women and girls (VAWG). It has made a remarkable impact since launching in 2020, doubling the conviction rate for perpetrators of gender-based violence across 12 countries, and witnessing the signing of almost 500 laws and policies aimed at ending VAWG.
In line with the inclusive approach of the fair, participants have been selected through an open Call for Proposals to seek out local initiatives and context-specific approaches that have shown promise in preventing GBV and FV in the Caribbean. The final selection of participants has been made by an advisory group that has engaged four recipient UN organizations (UNDP, UN Women, UNICEF, and UNFPA), the EU, and other key partners (UN Associated Agencies, Civil Society Reference Group, Implementing Partners, Academia, etc.)
For more information, please visit our website or contact our media liaison:
You can find further information on key achievements of the Spotlight Initiative here.