Masks have become the distinct icon of the struggle against this pandemic. There's one of every color, design and material. There's medical masks, eco-friendly masks, and even home-made ones. And among so many alternatives to cover our faces, now there's also violet masks that today symbolize our fight, compromise and unity against gender-based violence in Peru. By using them, we send a clear and strong message to every woman: you're not alone.

For decades, violet has been the flagship color of the feminist movement toward gender equality across the world. A movement that, according to Natalia Iguiñiz, founder of "Ni Una Menos Peru" a Me Too-similar organization in Latin America, "is unfortunately still sorely needed." This is why in the coming weeks a wave of violet masks will flood social networks in our country. Citizens, thought leaders, political representatives, activists, journalists and artists will share photos sporting these masks.

The #MascarillaVioleta (violet mask) campaign is led by the United Nations Development Programme (UNDP), as part of their No Estás Sola (You're not alone) set of initiatives, together with the Ministry of Women and Vulnerable Populations (MIMP) and the Spanish Agency for International Development Cooperation (AECID). In this way, the violet masks we use today to protect ourselves from the coronavirus also become a symbol of solidarity and unity to end violence against women throughout the country.


Long time before coronavirus came, violence against women was already a public health issue that, according to the World Health Organization, reached pandemic proportions. As Iguiñiz puts it, "for girls, women and the LGBTQ+ population, this new normal is a new pandemic on top of an existing one, aside from racism and poverty throughout all of this. Their rights are affected three or four times over. These masks are evidence of our need of protection against both pandemics, and so far, only one of them is making headlines."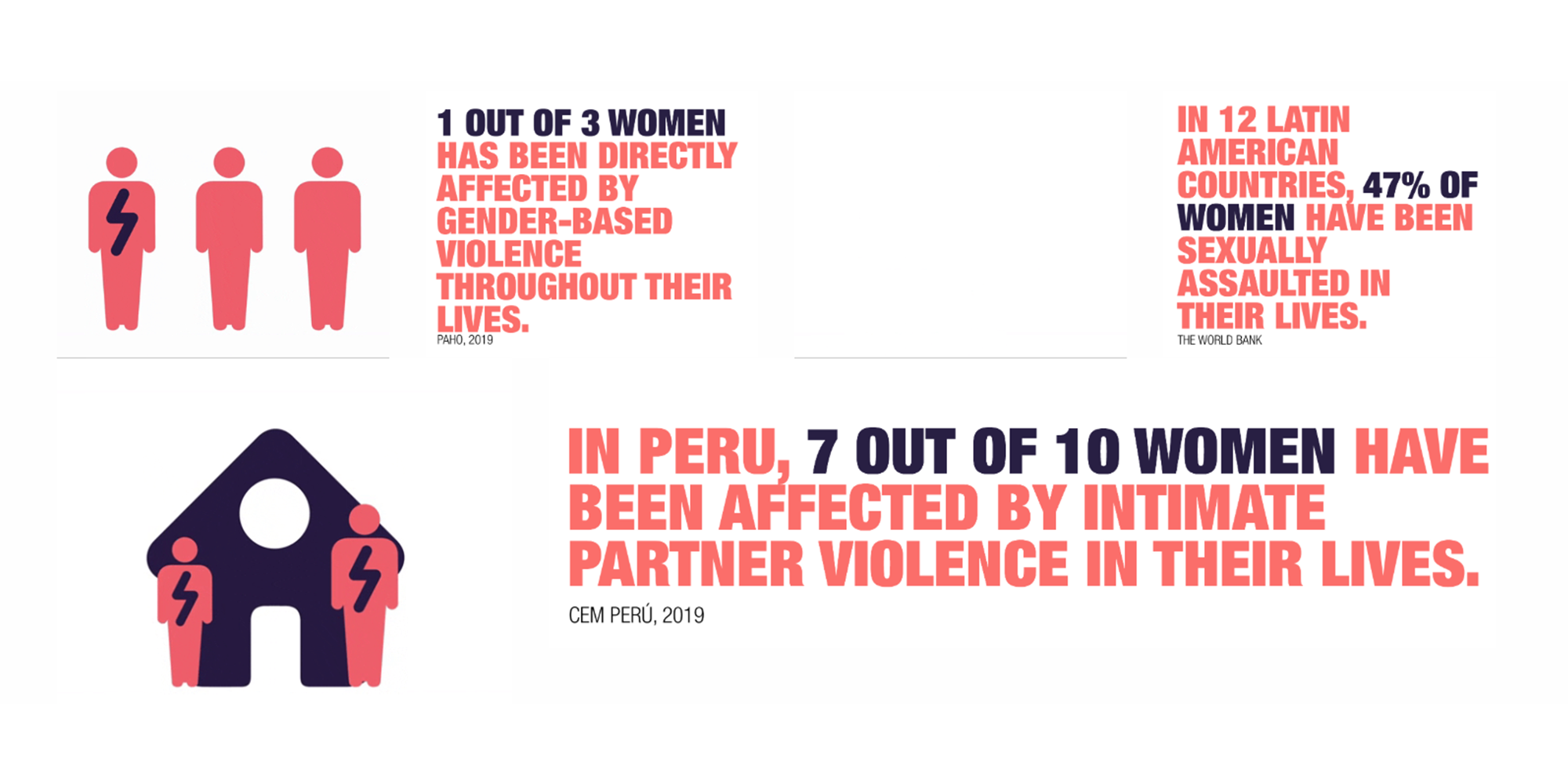 According to statistics released by the Ministry of Women and Vulnerable Populations (MIMP), in the 50 days following the mandatory isolation period in Peru, gender-based violence has become much more evident: MIMP's emergency hotline has received more than 28,000 calls, the police has arrested 3,763 aggressors and 12 femicides have been registered.

Behind these numbers there are endless experiences of women who during this pandemic live under two degrees of isolation: one, caused by the virus, and the other, by being forced to be locked up with their aggressors. It was already difficult to report this behavior before, and now women are prohibited from leaving and remain in contact with their aggressors 24/7. The fear of contracting the virus outside leaves them with a very difficult decision.
This could be a decision that 75% of women in the district of Villa El Salvador could be forced to make right now, according to a report released by UNDP. In it, 3 out of 4 women declared being directly affected by gender-based violence at some point in their lives. "We thought that during this quarantine there would be less violence and it's been the complete opposite," explains Bertha Jauregui, from the Collaboration Collective for Gender Equality based in this district. "We can't let the virus erase the progress we've made against this violence that harms us constantly, permanently and across generations. We're a caring community, we need to let the women affected that they're not alone." enfatiza.

Beyond the violet mask movement, No estás sola encompasses a wider intervention that unites the national and local governments, the justice system through enforcement by the National Police, the private sector, community networks and the general public.
In this way, No estás sola's strategy is focused in the power of strategic partnerships for awareness, action, compromise and protection. Awareness to prevent. Action to break the silence. Compromise to respond quickly. And protection to put an end to violence.
"This is an intervention in which everyone joins efforts to reach women and remind them we're in this together. The great challenge is eliminating prejudice and gender stereotypes that we've carried for generations, to finally change this misogynistic society that harms women so much," clarifies Gloria Montenegro, Minister of Women and Vulnerable Populations.
On one hand, No estás sola's objective is to strengthen present mechanisms to reach and protect those affected. On the other, it also strives to promote a culture of equality with messages about healthy masculinity, co-responsibilities and gender-based violence prevention.

Starting last weekend, more than 300 partner establishments – such as grocery stores Metro and Tottus and pharmacies Inkafarma and MiFarma, as well as markets in the districts of Lima, San Juan de Miraflores and Villa El Salvador – will share messages against violence and promoting equality. Through public broadcasts, banners and screens, these interventions will share information about attention services and how to access them in case of domestic violence.
Additionally, No estás sola will work with law enforcement to ensure an emphatic execution of these protection measures. The initiative is also coordinating with the local municipalities in Villa El Salvador and San Juan de Miraflores to train their waste collection personnel and strengthen their community-based networks. More local governments are expected to join this initiative in the near future.

As multiple political representatives, activists and leaders in our country have declared, our main priority must be to put an end to the impunity of the aggressors. But beyond that legal goal a world of social norms exists, norms that tolerate and accept these behaviors, attitudes and prejudices. These have to stop existing for women to safely rebuild and move forward.
At the end of the day, there's no mask that protects against gender-based violence. The cure – or the vaccine – against this violence remains in all of us. It's in the cultural change that we all must take a part of, as Iguiñiz points out. But it's also in the meaningful political participation of women, as Jauregui declares. All of these are transformations that we must achieve to finally live in a violence-free society.
Fuente:https://www.pe.undp.org/content/peru/es/home/presscenter/articles/2020/violet-masks.html