It's 8 am and we've been hiking for three hours already. It's just a matter of time until the sun reaches the top of the mountains towering over us and we feel the rays starting to roast our skin. We stop for a break and look for shade under pistachio trees,fill water bottles in the creek, and wipe away sweat and dust from our eyes. Suddenly one of the guys grabs his

binoculars and scopes the dusty ridge on the other side of the river valley we've been gradually ascending. We follow his gaze and for a moment we are all puzzled. There seems to be nothing worth paying attention to, no leaf in a tree moves – until Ayub directs our eyes to a rock sitting on the ridge, partly covered by low tree branches. On top of that rock stands a markhor, totally still, totally camouflaged. We sit down and watch this wild goat, representing a species that not so long ago was speeding towards extinction, with poachers and illegal trophy hunters in the driver's seat. Now studies show that since establishing conservancies in the range of the Tajik markhor, the local hunters have been able to help the population increase by managing sustainable subsistence and trophy hunting and tourism in the area. So the sight of one now was definitely worthy of our attention. Or as we like to say, it was something worth roaring about (for reference read Conservation in the Crosshairs).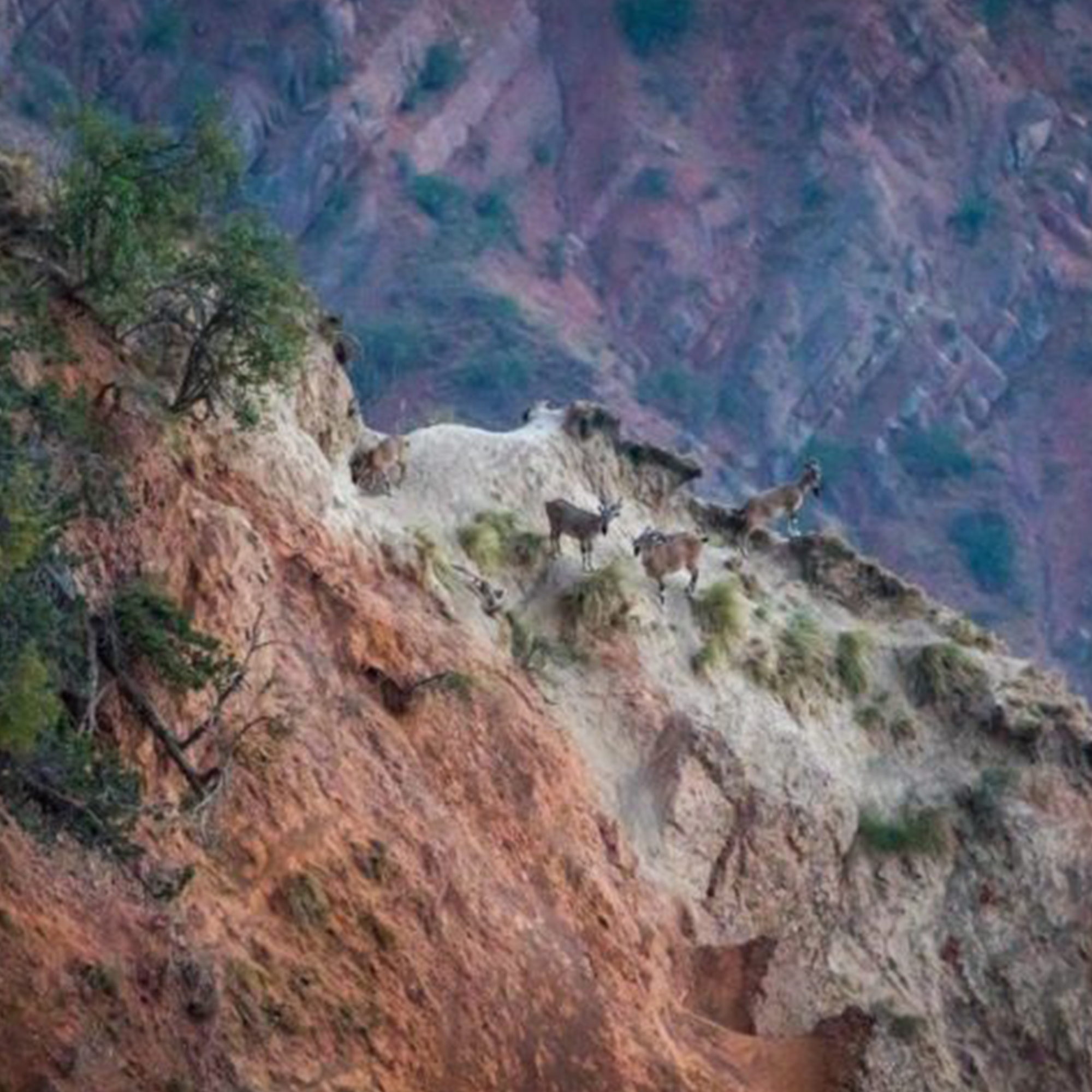 TAJIK MARKHOR (CAPRA FALCONERI HEPTNERI), A WILD GOAT SPECIES INCREASING IN NUMBERS IN ITS ISOLATED RANGE IN THE HAZRATISHOH AND DARVAZ RANGES. [PHOTO BY PIIA KORTSALO]
Here, in southern Tajikistan, where the roaring waters of the Panj river separate Tajik cliffs from Afghan summits, new allies of Tajik wildlife (see Shirin Mukhametkadyr Kyzy's blog post) roar for a future full of possibilities. We are here to train the newest voices in the conservation scheme of Tajikistan: the local women. Five of them come from the nearby district of Shuraabad and have never been in the backcountry or seen the wildlife the mountains hide. Four of them travel to attend the training all the way from the Pamir mountains ("the Roof of the World"), the jamoats of Alichur and Bartang. They have already done some outdoor skills and guiding training before, and are eager to explore areas different from their own. As the training days go by we witness shy girls become responsible, confident young women who can lead a tourist group through rocky hiking trails and answer questions like "How can ungulate trophy hunting support snow leopard populations?" and "Can I eat a rosehip and collect flowers to make a wreath?". We see traditional sandals and dresses getting changed into hiking pants and shirts, while unique cultural features, manners and traditions are still sustained and cherished. And we notice eyes and minds opening to the world they haven't seen before in their own backyard and home country.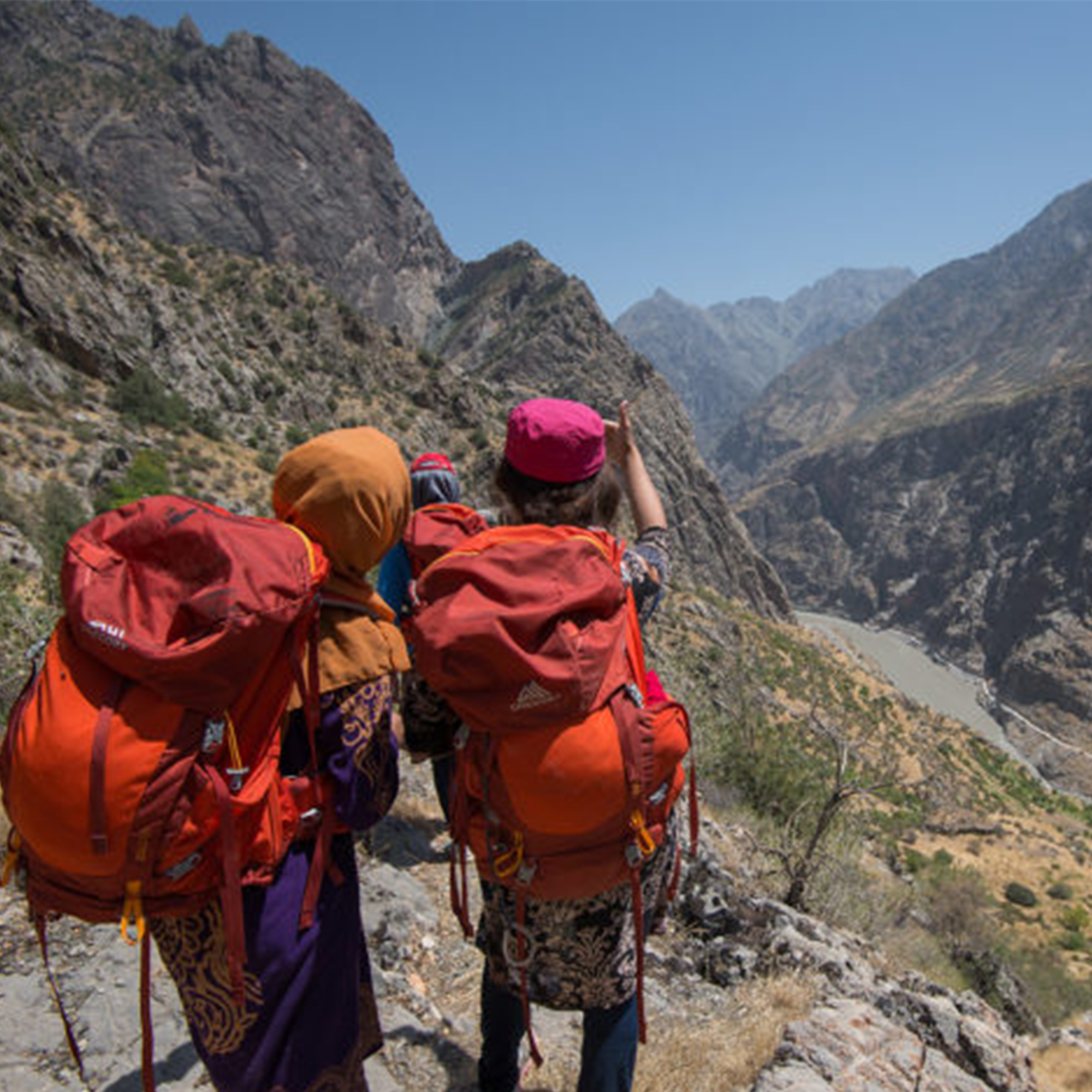 ON THE LEFT: TAJIKISTAN. ON THE RIGHT: AFGHANISTAN. BELOW: ROARING WATERS OF PANJ-RIVER AS A DIVIDER. FRONT: ROARING TRAINEES AS FUTURE GUIDES AND CONSERVATIONISTS. [PHOTO BY ANA-MARIA PAVALACHE]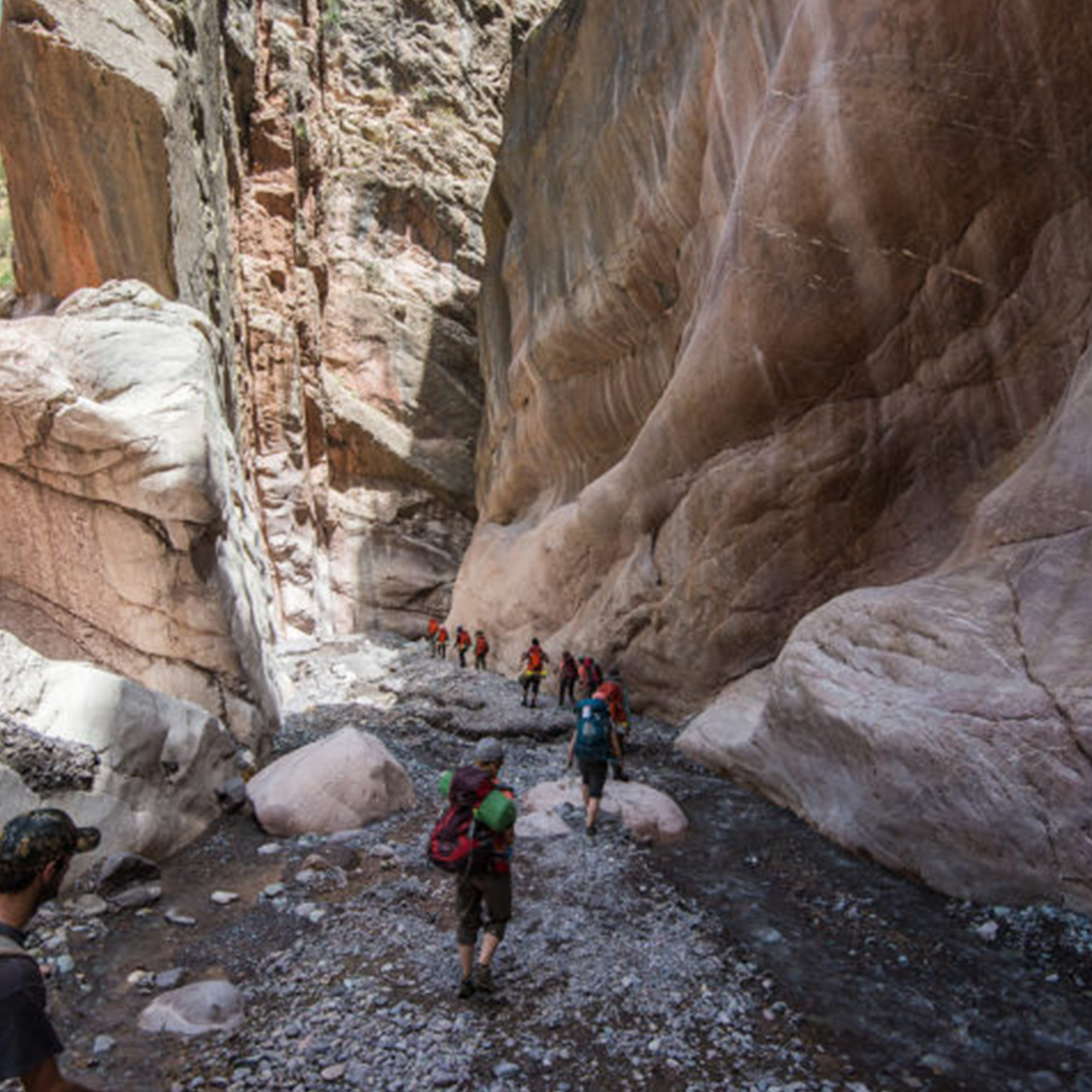 FUTURE GUIDES LEADING A HIKE THROUGH SHUROBAK CANYONS, RARE GEOLOGICAL FORMATIONS UNIQUE TO CENTRAL TAJIKISTAN AND OPENING THEIR MINDS TO THE WILD TREASURES OF THEIR COUNTRY. [PHOTO BY ANA-MARIA PAVALACHE]
During the days we spend in the nearby mountains our minds work at least as hard as our bodies as we learn and experience what it is to eat, sleep and survive outside. We discuss what it is to bring outsiders here and introduce them to the wild treasures of this beautiful country, and the ways to do that sustainably, so that the treasures and beauty are preserved. And we ponder what is it to be a pioneer, to be among the first girls and women trained as hunting and hiking guides in one of the poorest and most traditional countries in Central Asia. It is encouraging that the people working in the three conservancies (M-Sayod in Darvoz and M-Bukhori and Saidi Tagnob in Shamsiddin Shohin) and the nearby villages we visit offer nothing but open-mindedness and support to this cause Panthera (Central Asia) and HCAT (Hunting and Conservation Alliance of Tajikistan) are advocating. We are received with great hospitality, car rides and pack donkeys are organized on very short notice, and we are involved in discussions about how to develop the conservancies towards better community-based conservation practices. It seems we all, no matter where we come from, have a common ground for roaring.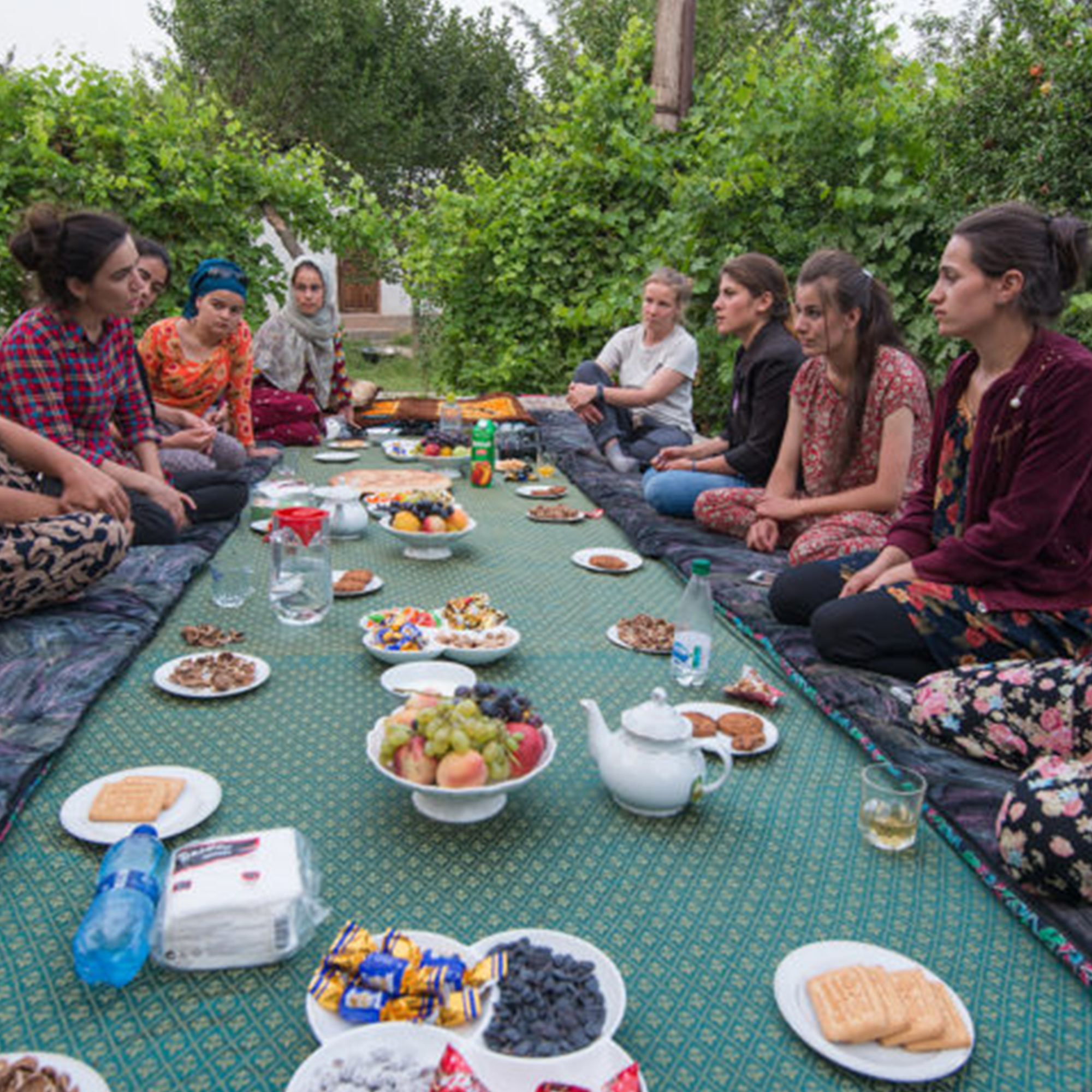 ENJOYING HOSPITALITY IN KISHT VILLAGE, SURROUNDED BY POMEGRANATE TREES AND DISCUSSIONS IN TAJIK, PAMIRI AND ENGLISH. [PHOTO BY ANA-MARIA PAVALACHE]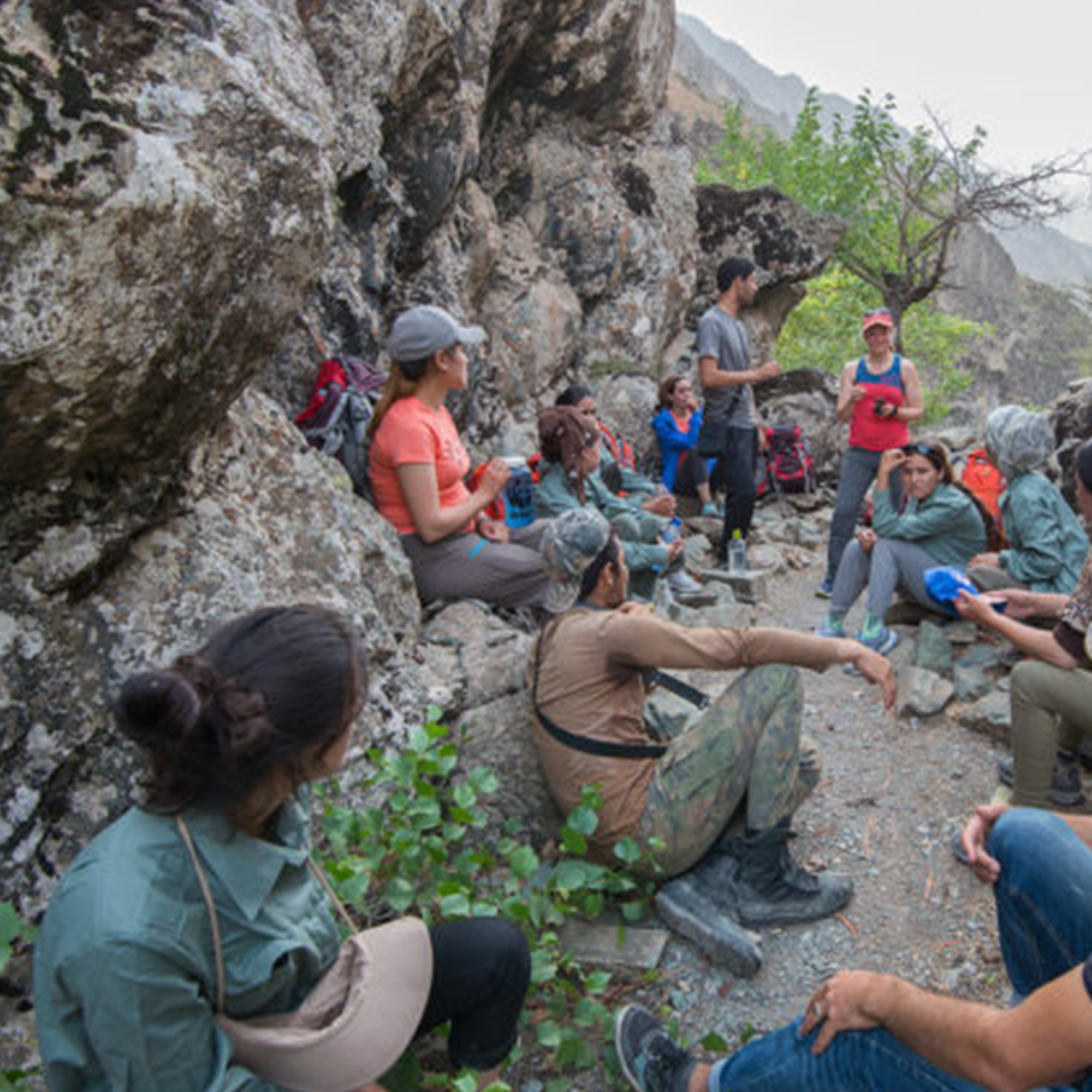 TRAINING MEANT HIKING A LOT AND THINKING A LOT MORE. TRAINING SESSIONS INVOLVED DISCUSSIONS ABOUT HIKING PACE, WILDLIFE VIEWING ETHICS, COMMUNICATION WITH CLIENTS AND THE IMPORTANCE OF DRINKING ENOUGH WATER. [PHOTO BY ANA-MARIA PAVALACHE]
In a country where those working to protect wildlife face unimaginable challenges, from a rich man aiming to shut down whole conservation organizations, to locals hoping to harvest a living from wildlife to get by, it would be easy to feel despair and to give in. The encouragement and support that we as trainers received from Tanya Rosen (then the Snow Leopard Program Director for Tajikistan and Kyrgyzstan for Panthera), the other Panthera staff in Kyrgyzstan and Tajikistan, HCAT founder Khalil Karimov and other HCAT staff in Tajikistan, and the local people in the conservancies and villages was empowering and we owe a huge thank you to all of you. With their support, we were able to inspire the young women to admire the environment they live in, recognize the problems and threats such ecosystems face, and seek solutions that will lead to a better future for all creatures under the roasting sun. To leave no trace and to only take memories. To be able to decide which trail to follow, and sometimes to dare to follow even the most intimidating ones. To keep an eye on those wild treasures, like snakes, bee-eaters, ungulates, bears, and, if they are lucky, snow leopards. To admire all the magnificent shapes and colors the nature takes after. To believe in possibilities of young women being the participators, the guides, the roaring leaders for wildlife.
ROARING FOR WILDLIFE AND FOR THE FUTURE OF POSSIBILITIES. [PHOTO BY ANA-MARIA PAVALACHE]
Piia: is a conservationist who is enthusiastic about ecosystems thriving in harsh environments, whether it's the cold winters in the Yukon where she is based, or complicated political and societal ethos in Central Asia where she occasionally finds herself involved with snow leopard work. Piia has a Master's Degree in Physical Geography and combines two of her passions, conservation and maps in her job as a Geomatics Specialist at WCS Canada. She would like to spend all her free time exploring outside, and she dreams of a life in a sustainable world and one day getting a perfect photograph of a lynx.Ana-Maria: currently based in Switzerland, Ana finds balance between working as a part time social educator and spending as much time as she can being involved with world's most isolated communities and conservation projects in diverse geographical settings, with a great focus on High Asia region. Whether it's trekking in Ladakh, ski touring in the Swiss Alps, backcountry camping and skiing in Lapland, rock and alpine climbing, as well as sailing the Pacific Northwest, exploring glaciers in the Karakoram range and roaring for wildlife in Tajikistan, Ana makes it her mission to get immerse into the nature to foster a true and vital understanding of our place in the world and explore the complexities of human experience through visual storytelling.
The "Tajik Women & Conservation initiative" is possible thanks to support from National Geographic Big Cats Initiative, UK Aid through the Illegal Wildlife Trade Challenge Fund, UNDP/GEF Tajikistan and the Trust for Mutual Understanding.
Fuente:https://blog.nationalgeographic.org/2018/09/15/all-roars-lead-to-conservation/