The world is recognising the decisive leadership of women political heads in Germany, New Zealand, Iceland and Finland as they fight coronavirus. It reminds me of the time when an Indian male political leader who I met to seek support for women reservation bill asked me, "Does it really require to have reservations for women in the Parliament? Don't you think efficient men will lose their opportunity to make the necessary impact?"
I respond to him today with another question. Men (politicians) have an opportune moment to shine and showcase their strong leadership. Why are they not taking this opportunity?
Women leaders have taken tough decisions with humility. They heard the experts, shared spaces with their male counterparts & gathered the support of people and media in their response to this pandemic.
Back home, when the pandemic hit India, Kerala reported maximum number of positive confirmed cases. Though infected cases were high in Kerala in early March, the state was able to flatten the curve swiftly and determinedly in a month's time. Kerala model is applauded across the globe and interestingly women in this state too have showcased remarkable ways of handling this pandemic.
It starts with one woman in a strong position to devise the course of response — Kerala Health Minister K. K. Shailaja. She acted skilfully and used her experience of previous health emergencies like Dengue spread, possibilities of Leptospirosis post floods, Nippah Virus while planning for coronavirus. 'Shailaja teacher', as she is addressed by her state citizens since she was a Chemistry subject teacher in a high school prior to her full-time political career, has been vigilant. She unheeded the mockery on her for initiating state preparedness based on the initial reports from Wuhan. Her daily press meets along with the Chief Minister portrays transparent approach, which is providing media accurate information. After containing the existing cases in the state, she arranged adequate quarantine and isolation wards for internal migrants and migrants of Kerala who wished to return to their homeland.
Wayanad district has a population of 8 lakhs, it quarantined 25000 people. Majority of the district's population belong to tribal communities and are vulnerable to any disease outbreak. Dr. Adeela Abdulla, District Collector of Wayanad, has been lauded for ensuring strict implementation of the lockdown. Interesting, she was inspired by her counterpart M Anjana, District Collector of Alappuzha district, who introduced Geofencing (a location based- service surveilling phones) to track violators of quarantine.
Dr Abdullah formed a team 'Golden 5' which has one member from Asha worker (community health worker), an anganwadi worker (community female worker who provide health and nutritional services to pregnant women and children), Kudumbashree ADS member (Kudumbashree is a women empowerment project and has members who work within Area Development Societies), ward member and health worker. They worked at the ward level and made visits to the houses of those in quarantine. The district was prepared for a response much before the first case was reported. Helpdesks were instituted and worked round the clock to provide food, medicine. Transport was made available for the tribal people. '
In Alappuzha district in the initial phase of response, over 8000 people were home quarantined. M. Anjana, Alappuzha District Collector, took the lead and introduced an interactive voice response to overcome the challenge of manually calling and checking upon those in quarantine. The response mechanism (adapted from Meghalaya) classified quarantined people into A, B, C categories. 'A category' included people suffering severe health issues and the software provided the list of people with health issues to the control room staff. If a person in quarantine did not pick up calls even after the software called at least four times in a day, the doctors or health staff manually called upon to check on them. This software helped find the location of the person in home quarantine and altered administration if they left their house. The collector is also preparing the district for the second level of response by augmenting isolation facilities. House boats in the district will be assembled in two spots with all amenities for an isolation ward.
Apart from women in leadership positions in politics and administration, women in government collective initiatives, health workers, scientists, educators on ground have been the backbone to strengthen the state's response to coronavirus.
Kudumbashree, is the world's largest women empowerment government project. It has 50 lakh women who are part of this initiative. In this fight, around 44 lakh women prepared food through 1300 community kitchens. They are also engaged in the large scale production of masks, sanitisers and raised awareness on the need to stay at home and washing hands. They have formed 1.9 lakh WhatsApp groups to share information. 'Snehitha', a gender helpdesk is also run by Kudumbashree to provide support to survivors of violence against women.
A Floating Market initiatives have been started in Alappuzha district by women who are part of the project. The floating market is providing daily supplies to people in the district.
Supriya Debnath sits in the control room and receives panic calls from migrant workers stuck in the state. She is fluent in five Indian languages (Bengali, Odiya, Assamese, Hindi, Malayalam) and handles the migrant labourers queries regarding their jobs, food, return to the home state and safety measures to be taken during Covid. Supriya volunteered to support the migrant workers and the state in this humanitarian crisis through her language skills.
Women policemen in Kerala have been patrolling on their strong Royal Enfield Motorcycles with red helmets to implement the lockdown. These 12 policewomen, from the Thrissur district, go around the town enforcing the lockdown and helping senior citizens, women and children in need.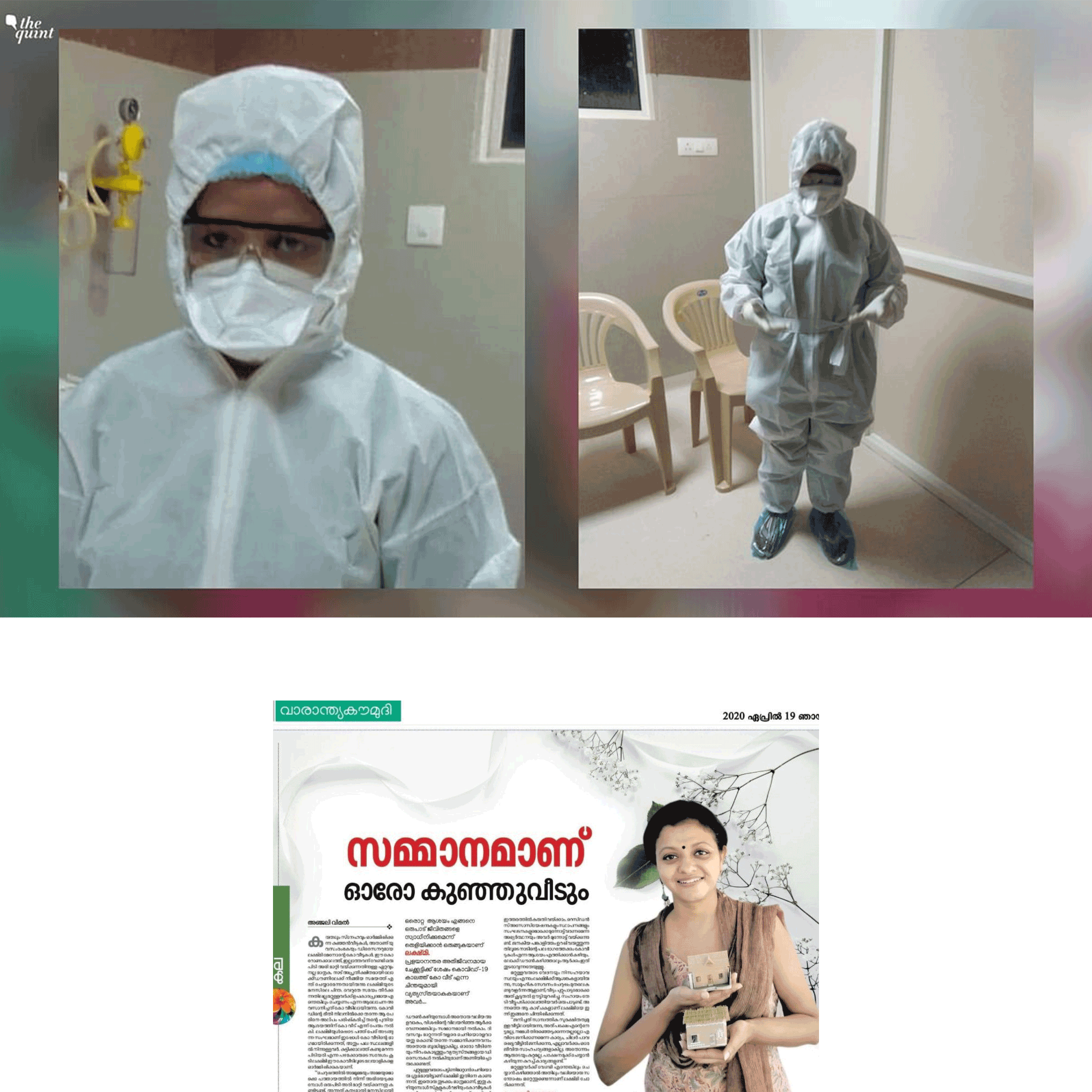 Reshma Mohandas took care of the elderly patients affected by coronavirus. Photo credit: The Quint, Lakshmi Menon's work published by KeralaKaumdi publication
Reshma Mohandas is 32-year-old staff nurse at Kottayam Medical College. She was tested positive after she came in close contact with an elderly couple who were unable to wear masks due to their age in the isolation ward. She recovered, discharged from the hospital and also completed the 14-day quarantine at home. She believes that people of Kerala are resilient and is raring to join her duty in the coronavirus isolation ward.
Lakshmi Menon is social entrepreneur who has introduced the concept 'Coveed, Covid and 'veedu' in Malayalam means home. The initiative provides a paper model of a house for people to create at home. Once created, people are asked to keep aside a share of grain or pulses when you cook for your family and pack it in the Coveed for donating it to those in need.
Another example is of K. S Chitra the legendary South Indian singer who has taken the lead with 22 other singers on a 4-minute song as musical balm to lift the spirits in gloom.
Amid the ongoing crisis, female doctors in Kerala have come up with a collaborative dance performance to stand in solidarity with the medical staff and spread a message of unity. In a video, which has gone viral on social media, 24 women doctors of SK Hospital in Trivandrum perform at their homes on the cover version of the devotional song 'Lokam muzhuvan sukham pakaran' to motivate the medical fraternity.
These stories of leadership by women during global pandemic must be told and retold. It is a significant time where we have opportunity to write and remember the contributions of women at home, in government and in social life to fight coronavirus. Even in an unequal world if women haven proven their efficiency, it is high time that we identify women leaders, acknowledge and share space with women in all walks of life.
Written by Rajini Menon, Gender Coordinator at Oxfam India
Fuente: //medium.com/@Oxfam_India/women-are-leading-the-fight-against-coronavirus-in-indian-state-of-kerala-400ed46d6100«>https://medium.com/@Oxfam_India/women-are-leading-the-fight-against-coronavirus-in-indian-state-of-kerala-400ed46d6100>